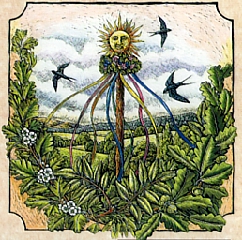 What a blinding weekend I've just had ... a fantastic Beltane ritual (dispite hiccups in the bookings), seeing my Ritual come to life in front of me was a very humbling experience!
I've written rituals for me to do on my lonesome - but this was my first performed in public and the nerves were at an all time high - not helped by a double booking of the field we used..... although that was the least of my worries!!
I think, when we put our 'heads above the parapet' it's natural to feel nervous, scared and worried. But, faith in the Universe and the Divine will carry you through and even MayPole dances that have never been performed before can go off with only minor hitches!
Everything happens for a reason, sometimes the reason is to move you on to bigger and better things - sometimes it's only to force you to stop and breathe and adjust to the new 'you'.
Saturday was like that for me - what could have been a total disaster turned out to be wonderful, I could have been felled by the doubts, crippled by the uncertainty and utterly devastated by the last minute 'foul-up' but I trusted that it had all been sent for a reason, I asked for guidance and for calm and my angels and guides came through for me - all I had to do was ask!
I can never, ever, thank the wonderful Witches that turned up to the ritual enough, for being there and for being part of my wee dream - you all rock and I am beyond blessed to know you and to share time with you!
My Path has always been slightly bumpy with more wibbles and wobbles than I care for - but each wibble and wobble has taught me so much and enabled me to grow and bloom. So, I'm grateful that I'm not perfect, I'm grateful that I sometimes fail - because with each failure I'm taught something that I need in my life!
love Raven x x x