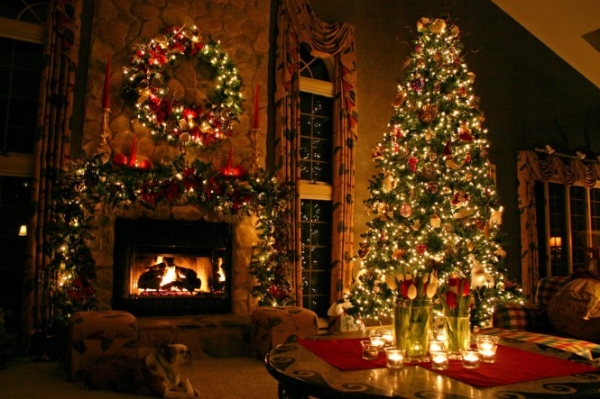 I have always loved this time of year - it's the Season for giving and I love to give (don't get me wrong I love to receive as well.... but the giving is what really excites me!!)
This year I am really struggling to find any Seasonal festivities within myself and I think a good part of that is missing my Mum......... I know everyone misses their loved ones at this time of year but for me Christmas (Mum wasn't a Pagan) was her most favorite time of the year.
She would start to stockpile presents in March and by now, everytime I would go round there after work there would be a flurry of activity with Dad wrapping (and cursing) the presents .... Mum worrying she hadn't bought enough - Goddess forgive if one of the grandchildren had one more present than the other..
One year we laid them all out on the bed and did a 'count' - one boy grandchild had 13 presents and the other had 15 ......... so, into town she sent me for another two presents - she just couldn't grasp the concept that she could take one present from one to the other - everything was bought personally with that particular person in mind .... she abhorred the idea of vouchers or giving money .... thought that was lazy and a quick way out ......... LOL - many an argument with me about that one!!!
In her later years, she got a bit too carried away - we had Christmas Eve presents, stockings, Main presents, table presents, Old Faithful presents and then Old Years Night we had the whole family gather for tree presents...............
I remember one year we asked her for a pet - we asked for a pet beginning with D... four legs and a waggy tail .............. so, she got us ................two ducks!!!!!!!!!!!!!!!!!!! - she has a brilliant sense of humor before the illness stole it from her ...........
My Dad is doing what he can and I know that he misses her too - but it's not the same - it's not the same for him or for me or for any of us - at this time of year Mum was larger than life ...........
Still, the last thing she would want is for me to be sad and miserable - she'd want me to go out there and forge my own traditions, make my family as happy as she made hers and to continue the tradition of loving this season ............
So, I better go and get that tree up then :)
love Raven x x x